Use drones professionally & visibly.
We integrate drones safely and easily into German airspace. Enable automated flying over long distances.
For drone visibility, we provide our traffic management with unique aerial situational awareness & highest data quality in ground level airspace.
We advise on integrating UAS into operations, create SORAs, ConOps & assist with approval processes.
Of course, we also assist in the selection and procurement of drones, train & test remote pilots (DE.PStf.035).
Progressive
flying in airspace.
Through our participation in research projects such as the multi-award-winning Hamburg U-Space Reallabor or the first Bavarian U-Space with AMIUS, we support the further development of the drone market.
Our goal is to become the first certified U-Space service provider in Germany.
We stand for safe unmanned aviation.
SUCCESSFULLY DEPLOY DRONES
. WITH DRONIQ.
DRONIQ SHAPES YOUR FUTURE WITH DRONES
Droniq is a joint venture between Deutsche Flugsicherung and Deutsche Telekom. To this end, Droniq combines the aviation expertise of DFS with the mobile communications expertise of Deutsche Telekom. The business objective is to provide, market and sell services for drones and other unmanned aerial vehicles in Europe. We support companies in all phases of drone operations: planning, implementation or follow-up.
SELECTION OF OUR PARTNERS
PROJECTS & CASE STUDIES
Drones Flash #3: What does the drone economy think about drones in BOS operations?
DJI Dock: Europe's first operating license
Press release: Droniq reveals next step in development of industrial drone use
Droniq Academy tests employees from Fraunhofer Institute IAO
IBM Maximo User Conference: Project DORA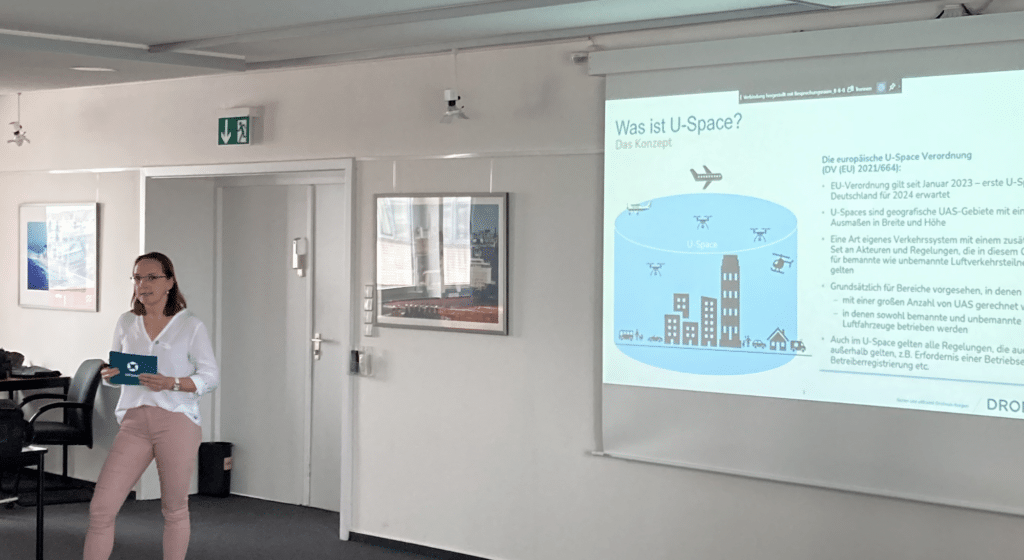 Project UAM-InnoRegion-SH: Workshop
Drones Flash #2: Survey Results
This is what they say about us
Droniq stands for visibility and safety in the lower airspace, just like we do at Dronetag. We are very excited about our partnership and proud to support Droniq's unmanned traffic management system with our remote ID solution.
Drones offer enormous potential. To exploit this, prospective drone pilots need to know how to use the drone safely. By working with Droniq and its Droniq Academy training platform, we have the opportunity to impart this know-how at Mönchengladbach Airport in order to promote the professional use of drones in our region.
When flying in urban areas, there are few things more stressful than an approaching rescue or police helicopter flying low and fast. The aerial situational awareness image provided by Droniq allows such aircraft to be perceived early, allowing you to react without time pressure. A gamechanger for professional and safe drone operations.
With our drone traffic system, we are very well positioned internationally and thus already have a basis for integrating drone airspace. In this way, we enable fast and uncomplicated drone operations. This is an important step in the direction of digital aviation, combined with proven safety.
By flying over Colonius, we obtain detailed images and data about the building fabric in areas of the tower that can otherwise only be inspected at great expense. The LUC will help us to speed up the further digitization of our site management.
We will study the various elements of such a transportation system in real-world projects to gain an accurate picture of the technical and regulatory requirements. Electric air transport can provide an extension to public transport, airports and time-critical applications, and the service will be environmentally friendly, quiet and safe.
It is important to put the first U-Spaces into practice in order to advance the safe integration of drones into the airspace. With the U-Space reallab in Hamburg, we have been able to impressively demonstrate how this can be done and at the same time, as the DFS Group, we are demonstrating our technological capabilities. Unmanned aviation is an important part of future air traffic, which will also become increasingly autonomous in other fields.
With Droniq's services, our fixed-wing drones will be able to fully exploit their performance potential for long-range missions and large-scale aerial flights. Droniq thus creates the conditions for using drones efficiently and opening up new markets. We are looking forward to the first projects using the Droniq service.
When we are called out, human lives are often at stake. Every minute counts! Drones help us to deploy personnel and large-scale equipment much more efficiently. As an incident commander, I can use Droniq's aerial situation display to ensure safe flight operations under the toughest conditions, even during large-scale operations and parallel use of helicopters.