Federal Ministry for Digital Affairs and Transport
DFS German Air Navigation Services GmbH
BOARD OF ECONOMY AND INNOVATION (BWI)
Project Phases & Milestones
Voices about the U-Space Reallabor Hamburg
We have shown in the real lab that a U-Space can be implemented anywhere: even in such a challenging environment as the Port of Hamburg. Droniq is already U-Space ready. This underlines our claim to become Germany's first U-Space service provider.
To test a transport system for drones and evaluate the opportunities and challenges, the Port of Hamburg offers the best conditions. Used wisely, drones offer enormous opportunities in the most diverse areas of business and society. With the U-Space Reallabor, I see the opportunity to test potentials of a new air transport under real conditions and to actively participate in its development. That is why I am delighted with the decision of the Federal Ministry of Transport to support the project in Hamburg.
With our drone traffic system, we are very well positioned internationally and thus already have a basis for integrating drone airspace. In this way, we enable fast and uncomplicated drone operations. This is an important step in the direction of digital aviation, combined with proven safety.
In the future, the U-Space will allow the full potential of the drone to be used in urban areas within a given framework. This is a milestone for unmanned air traffic. We are proud to show for the first time what this future can look like.
Hamburg entered the drone age back in 2016. Various projects have been launched since then, involving the transport of tissue samples by drone, a control center for organizing drone traffic, or defense against non-cooperative drones at airports. Safe integration of drones has been a top priority from the beginning. The U-Space Reallabor - in close cooperation with numerous Hamburg partners - is an important milestone on the way to the regular use of drones, especially in the public interest, such as in the fire department or the transport of medical goods.
We show here how modern and digital an airspace for drones can be designed. To integrate unmanned aviation safely into the air traffic system, we combine our experience in manned aviation with innovative technological solutions. In addition to drones, we will also see significant developments in other fields of increasingly autonomous aviation in the coming years. We are proud to be at the forefront here.
To fully exploit the economic potential of drones, they must be easily and safely integrated into existing air traffic. The test flights mark the next step in achieving this. At the same time, we are moving closer to our goal of positioning Droniq as the first USSP throughout Germany.
With around 400 companies, Germany is the leading market for drone technologies. We want to strengthen and further expand Germany's technological lead. The U-SpaceReallabor has answered many important questions for us in setting up U-Space areas. We are now using this successful practical experience to enable progress. The first U-Space areas are to be established in Germany as early as next year. In this way, we will create safety in German airspace and enable more innovations in unmanned aviation.
We will study the various elements of such a transportation system in real-world projects to gain an accurate picture of the technical and regulatory requirements. Electric air transport can provide an extension to public transport, airports and time-critical applications, and the service will be environmentally friendly, quiet and safe.
It is important to put the first U-Spaces into practice in order to advance the safe integration of drones into the airspace. With the U-Space reallab in Hamburg, we have been able to impressively demonstrate how this can be done and at the same time, as the DFS Group, we are demonstrating our technological capabilities. Unmanned aviation is an important part of future air traffic, which will also become increasingly autonomous in other fields.
With the introduction of U-Spaces, the drone market will soon be opening an exciting new chapter. Within the scope of our previous U-Space projects, we have already gained the necessary experience to actively shape this: both in terms of the technical requirements for safe and continuous U-Space operation and the expertise required for this. We are looking forward to the time ahead and are well prepared.
SAFIR-Ready: Start Work Packages
SAFIR-Ready: Project Kickoff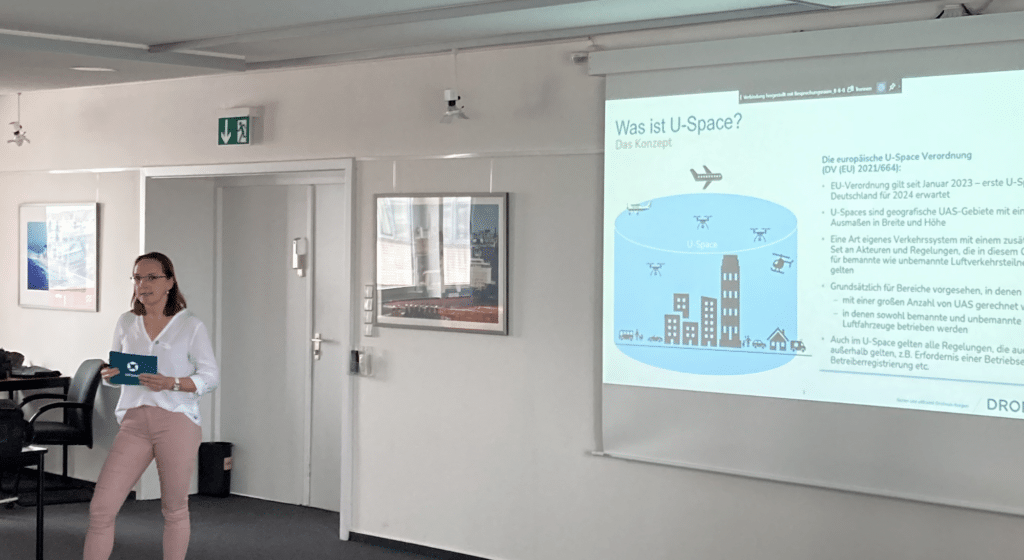 Project UAM-InnoRegion-SH: Workshop
Federation of German Industries:
InnoNation Festival
LUV project: closing event
Droniq at Amsterdam Drone Week 2023
Donaukurier: The drone is already there
With the U-Space concept, EASA has published the first accepted verification procedures (AM) and guidance (GM) for the implementation of U-Spaces.
BMDV Concept: Establishment of U-Spaces in Germany
Horvárth Talk: Pioneers in the Air - How Droniq is playing a key role in shaping the future of unmanned aviation
Demonstration of U-Space services at Reichelsheim airfield